Guantanamo: detainee who reported torture ready to be released
"He does not constitute a danger for national security. He is therefore eligible for release".
This is a statement by the periodical review commission on Mohamedou Ould Slahi, who spent more than fourteen years in the "legal black hole" that is Guantanamo. He was considered a terrorist suspect, even though he wasn't accused of a single crime.
The ruling has been received with elation and satisfaction by the American Civil Liberties Union (ACLU), which has called for the release of Mr. Slahi and the shutting down of the Guantanamo detention camp for a long time.
How long must we wait for Guantanamo to be closed?
When this decision will be translated into action remains to be seen. In the Cuban military base there are 76 more detainees, 31 of whom have been cleared for release, waiting for their freedom.
The final shutdown of the infernal Guantanamo detention camp still appears to be a far away mirage, despite the effort put in by President Obama since 2009 and solemnly confirmed last February. Only a few days after his inauguration, he signed an executive order disposing the shutdown within 12 months.
The emptying out of the structure out has proceeded at a very slow pace for a long time. However, in the last few weeks, it seems to have speeded up with the transfer of two former inmates to Serbia and another one to Italy. This proof of reception of inmates for humanitarian reasons has been favourably welcome by the public opinion.
Hence, there are reasons to be optimistic and hopeful that President Obama will keep his promises in the final days of his mandate, dodging a heavy failure on one of the main points of his platform.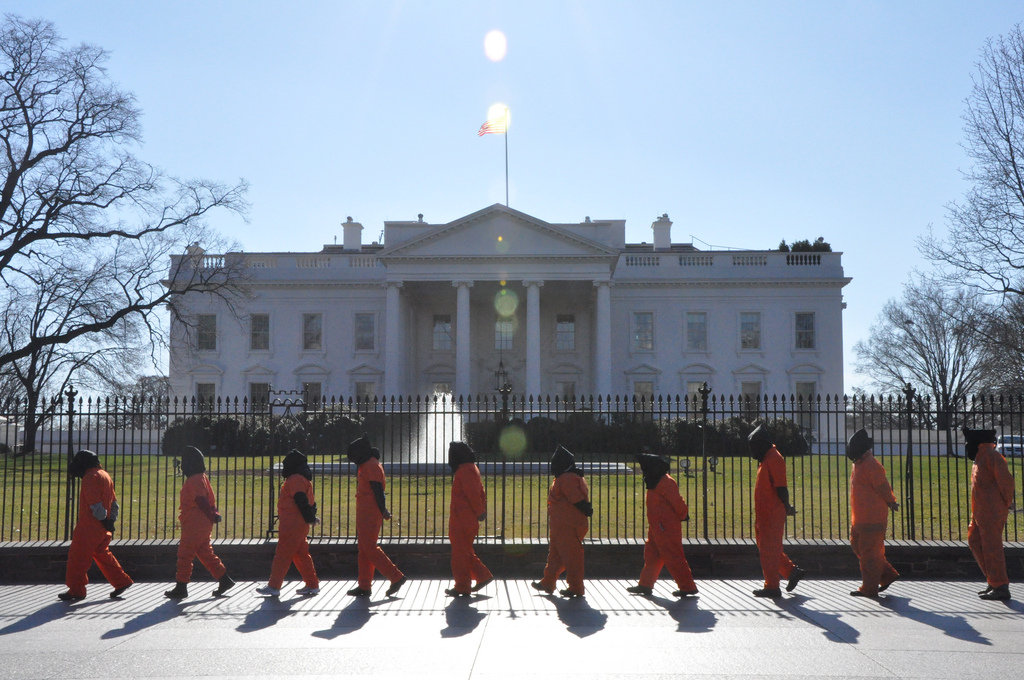 The Guantanamo Diary
The reason why Guantanamo's shutdown is vital and cannot be delayed any further is thoroughly explained by Mr. Slahi himself who, while being detained in solitary confinement in Camp Echo, has written a hefty memoir (more than 120.000 words for a total of almost 500 pages) in which the horrible abuses he endured in the infernal prison camp are described in detail and denounced.
This memoir has been catalogued as confidential and has long been kept under lock and key.
Only after six years of continued legal litigation, the manuscript has been de-classified and entrusted to writer and human rights activist Larry Siems, who edited and published it with the title "The Guantanamo Diary".
The book was finally printed out in January 2015, immediately becoming an international bestseller and strongly bringing the horrific reality of Guantanamo back under the public eye.
Despite having been heavily redacted, the manuscript, the first and only one to have been written by an detainee in Guantanamo, tells in great detail a story of the many types of violence suffered by Mr. Slahi, including physical abuse, sexual humiliation and death threats. This hellish whirlwind of pain and suffering lasted for years. In 1999, Slahi was arrested in Mauritania and was transferred to Guantanamo in 2002, after being detained in Jordan and Afghanistan. No accuse was ever formulated against him and no evidence of his alleged involvement with the terroristic activities of Al Qaeda was ever produced.
Goodbye Guantanamo?
Hopefully, a new chapter is starting for Mr. Slahi and the other detainees in Camp Echo. Our wish is that President Obama will keep his vital promise and that we can finally say goodbye once and for all to the human stain of shame that is Guantanamo.
Article by Corallina Lopez Curzi
Cover photo: Wikimedia Commons